Add a header to begin generating the table of contents
Metallic Epoxy flooring is laid down in several steps. First, we must pour the Epoxy over an even and well-sealed surface, and for that reason, we take the time to grind back, fill pits and thoroughly seal the underlying concrete.
Next, we mix & pour the liquid resin on-site, blended with various colour stains to meet the chosen colour scheme. Finally, we drop in the metallic resin, and our floor artists create the desired layering and pattern. Once that's cured and hardened, we apply sealers and a clear topcoat (typically high gloss to deliver that glass-like finish).
By far, metallic Epoxy is the most technically challenging floor covering to get right. There are so many dimensions to it and processes, and it takes considerable skill and experience. Over the years, we've answered many cries for help from homeowners and businesses who've employed less experienced services for their epoxy floor with appalling results. For that reason, we only recommend engaging a specialist with a strong pedigree in Epoxy to deliver your floors for you.
At London Linings, we specialise in the supply of Metallic Epoxy Floor Coatings Victoria wide. The coatings we sell are designed and manufactured in Australia to the highest standards to ensure durability, longevity and superior performance for all commercial, residential and industrial purposes.
Our Metallic Epoxy Floor Coatings Victoria business is conscious of environmental impact. Because of this, we are proud to offer a wide range of environmentally friendly water-based solutions which encompass very low and no VOC technology.
Metallic Epoxy Floor & Commercial Designer Floor Coatings are unique in appearance with an excellent glass-like finish, and they provide that unbeatable wow factor.
Metallic Epoxy Floor Coatings contain various distinct pigments to create pearlescent and iridescent effects that mimic the natural look of stone and rock formations and give you endless possibilities in design. It is a very durable and classy system used in many different environments such as retail spaces, bars, clubs, shops, hairdresser salons, showrooms, garages, restaurants, interior house flooring, man caves and much more. This coating can be used in residential, commercial and industrial environments. This product is easy to apply and easy to clean and maintain.
FAQs About Metallic Epoxy Floors
Is Metallic Epoxy The Same As Regular Epoxy?
Both 'normal' Epoxy and metallic Epoxy use epoxy resin, but the techniques of metallic Epoxy are quite different. As the name suggests, it includes metallic stains, but the application technique and layering are very different and much more involved with Metallic Epoxy.
Is The Metallic Epoxy Floor Slippery?
Despite the glass-like appearance, Epoxy is not as slippery as you might think, and a non-slip coating can also be applied. That said, for areas prone to getting wet, we don't recommend metallic Epoxy, and you might like to explore Epoxy Flake or a single tone epoxy that can have a more textured surface without compromising its beauty.
How Much Does Metallic Epoxy Finish Cost?
$130 – $170 sqm + GST ( based on application to a clean concrete floor)
Will Metallic Epoxy Floor Stain Or Damage With High Heels?
No. Due to the sealing and hardening process, the finished epoxy floor is like rock and will not get stained with red wine or get pitted if walked on with high heels.
Is Metallic Epoxy Flooring Expensive?
Are our metallic epoxy floors expensive? A: They are more expensive than regular epoxy floors because the materials are more expensive. Unlike plain Epoxy, the process requires more coats and can involve some specific artistic techniques. Our metallic floor coatings start at $4.50 per square foot.
How Do You Make Metallic Pigment?
The methods to make metallic and pearlescent coatings are as follows:
Mix two or more micas in different colours.
Add dry pigment powder to pearl white mica.
Tinting a coloured mica with universal tints or pigment dispersions.
Adding a pigment to interference mica.
Adding artist paint.
Are Metallic Epoxy Floors Slippery?
Metallic Epoxy is reflective and can look slippery, but it's not. Epoxy is an excellent option if you want non-slip flooring. It's also possible to add topcoats that are even more non-slip if this is an issue you need to deal with.
Can You Add Metallic Paint To Epoxy Resin?
Pour various amounts of the mixed resin into three other cups for colouring. Use stir sticks or paintbrushes to add metallic acrylic paint to your resin. Stir the paint and resin thoroughly. Use clean stir sticks to do a final stir.
What Colour Options Can I Choose From?
When we say these floors is one of a kind, we mean it. Choose from clear, silver, or brightly-coloured metallic shades, then customise your floor any way you like. For example, you can opt for less metallic pigmentation to reduce shimmer or increase pigmentation for a more dramatic look.
You can also blend colours on the floor to meet your design or branding needs. For example, a single colour helps create a streamlined appearance, while two or three-layer finishes blend hues and create wave-like designs that are 100% unique to your business.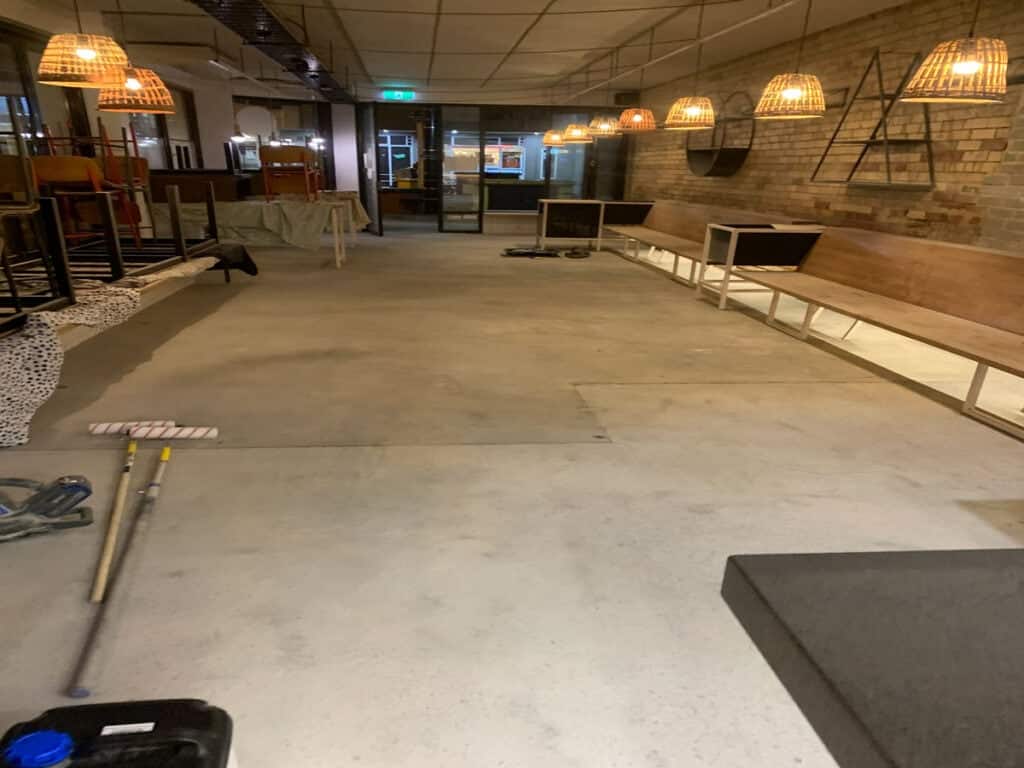 Will My New Metallic Epoxy Flooring Need Extra Maintenance?
No, Although your new floors may look like they've come from the pages of a luxury catalogue, they require no extra care that a regular epoxy coating requires. Instead, we apply a market-leading sealant to protect your decorative surface from spills, scratches, and moisture penetration. This makes your floor non-porous and less likely to stain. In addition, to help extend the life of your new flooring, we recommend following a few simple maintenance rules:
Remove dirt, dust, or debris with a broom.
Prevent grime buildup with a mop or wet rag every few weeks
Remove spills ASAP to avoid liquid sitting on your floor for too long.
Use a non-abrasive cleaner to target stains
Are These Floors Suitable For A Commercial Kitchen?
Although the shimmering finish may look slippery, its surface is highly slip-resistant (equal to solid pigmented floors or plain concrete). In addition, for spaces where foot traffic is heavy, we're able to provide topcoats to improve the non-slip qualities of your floor even further.
As metallic options can be applied in a seamless coat (regardless of unconventional floor layout and topography), you won't be left with seams that encourage bacteria and grime. This supports commercial kitchens and industrial areas where hygiene is top of mind.
Metallic Floor Systems
The metallic Epoxy Floor Coating System is usually applied as a 3-coat system that is truly unique with a stunning glass-like finish.
They provide that unbeatable wow factor. First, we recommend prime coating the surface to close off the capillaries within the substrate.
Then an opaque basecoat is applied preferably in black, but it also depends on the metallic epoxy coating colour you have chosen and the finished look you require. This coating can be used in residential, commercial and industrial environments. This product is easy to apply and easy to clean and maintain.
Metallic Epoxy Floor System 1:

Prime coat: Water Based Epoxy WEP32 ™ – Clear
Basecoat: Water Based Epoxy WEP50 HB™ – Black
Metallic Epoxy: Metallic Epoxy EP100™
Metallic Epoxy Floor System 2:

Prime coat: Water Based Epoxy WEP32 ™ – Clear
Basecoat: Water Based Epoxy WEP50 HB™ – Black
Metallic Epoxy: Metallic Epoxy EP100™
Clear Top Coat: Durathane SP40™ – Gloss or Durathane SP40™ – Satin
Benefits Of Metallic Epoxy Flooring
Many homeowners are replacing them with modern, sleek and unique looks, and the finish that has rapidly gained popularity in the last couple of years is epoxy flooring.
Resilience And Resistance
Like most epoxy flooring options, metallic Epoxy is resilient and resistant, which means that (providing it is installed properly by a professional), it shouldn't crack, warp or wrinkle. In addition, epoxy flooring is tough and can withstand high traffic and is resistant to damage from most chemicals and fluids and heat, making it perfect not only for interior spaces within your home but in workspaces too.
Wow Factor
The biggest reason people choose a metallic epoxy finish is its amazing, sleek and modern appearance. A metallic look can help turn any floor, splashback or countertop into a contemporary work of art. When used in homes and foyers and retail areas, they make a statement and become a talking point.
Unique Design
What's so good about a metallic finish is that combining the many different colours and installation techniques creates a unique design every time, which means it will be different from anyone else. In addition, we can create 3D illusions by manipulating pigmentation in the metallic mixture that is unique and is virtually impossible to replicate.
Longevity
As long as the metallic Epoxy is professionally installed, it can last for several decades without peeling or cracking. It is why more and more homeowners are using Epoxy in their homes; because it can extend the lifespan of your concrete slab.
Safety
Epoxy floors provide a reasonably safe and durable surface. With most intentions for metallic floors to be high gloss and shiny, the offset is that the floor can get slippery when wet. This can be the downside to bright and shiny. We recommend using mats and protecting furniture feet to ensure the floor is well protected.
For a little added safety, we can stir in a powdered aggregate that will give some slip resistance. But, in turn, this does dull the floor slightly. For the options, we can demonstrate the look with our sample boards.
Why Choose Metallic Epoxy?
A great metallic epoxy floor creates a wow factor to your space beyond any other flooring surface.
Forget about expensive marble tiles. Metallic Epoxy can even leave a beautiful custom pour and stained polished concrete floor in the dust in terms of sheer impact.
When you need a big impression, for example, hotel lobby, high-end retail store or showroom, there's simply no better choice. It can also be a wonderful seamless and elegant solution for the home, especially simple single coloured Epoxy with a flair of metallic stain.
The ultimate in glamour – deliver wow factor beyond any other finish.
Extremely hard-wearing, will not scratch or pit.
Seamless & hygienic. Easy & quick to clean.
Customisable with colour, luminosity and pattern for a unique finish.
Steps On Application Of Metallic Epoxy Flooring
Mixing Part A And B Separately
You must prepare the part A mixture 24 hours before doing metallic epoxy flooring. That means you should mix the metallic powder with part A sealer the day before starting coating. This allows the paint to blend in well and keeps the chunks away.
Put all the dark metallic powder you have into the part A bucket, and use a mixing tool for about 10-20 minutes to blend it. Make sure that no chunks or unwanted pieces are left after the job.
Finally, use a long tool to remove the chunks off the bucket edges and start blending the solution one last time—preferably with a higher speed. Now, let the mixture rest for the next 24 hours. (don't forget to cover the bucket's top with a proper sealer).
Installing relies on the same principles as any other coating. An installer will need to ensure your floors are clean, flat, and free of debris. If necessary, concrete polishing may be used to level your surface before installation.
Applying The Mixture
Assuming that the surface has already been prepared and ground for metallic epoxy flooring, it's time to smear the premier coat. But first, you have to combine part A with part B. The accepted ratio for this solution is 2:1.
So, use two parts of the A solution (the one you made last day) for a 1-part B solution. Bear in mind that you shouldn't make an excessive mixture. That's because Epoxy has a limited time after being exposed to air, and it may get dry before application.
Please put the mixture on the concrete base and use a large roller to spread it all over the place. Ensure that all the edges are covered with Epoxy before shifting to the next area. Utilise a brush attached to a long handle to reach the edges for one last touch. Let the surface rest for the next 24 hours.
Sanding, Vacuuming, And Alcohol Washing
Now that the premier dark metallic Epoxy is completely dry, you must sand it. There are several bumps and contaminators that you don't want on the final coat. So, get a long-handled sanding pad and start smoothing the area.
You can also use a buffer (i.e. a base cleaner machine) with a sanding pad to smooth the area. Here's a guide on using and caring for a floor cleaning machine. Then, vacuum the place to remove the remains. And finally, mob the ground with alcohol covered brushes.
Applying The Accented Layer
When putting on the second layer, use a brush and drop random lines of the accent colours on the base. Since we used the dark metallic powder for the premier coat, the accent colour can be a light silver metallic hue mixture.
After applying the second layer and accent colours, grab a roller and move it randomly on the surface. You have to blend the accent hue with the second Epoxy layer. Ask another person to utilise a torch and remove the bumps and wrinkles from the base. The fire can dry the surface immediately and leave no space for such unwanted stuff to cover it.
Topcoat
The surface will need a top coat to protect your new floor that prevents scratches and impact damage. In addition, we recommend a polyaspartic or urethane product for added scratch and UV-resistant qualities.
Who Should Avoid A Metallic Epoxy Flooring?
Although the finish may vary, all coatings offer a robust finish that's resistant to impact, chemicals, moisture, and everyday wear and tear. However, these floors are a visual statement that you'll need to consider for your business or commercial space.
For businesses looking for a uniform style, metallic designs may not suit. In this instance, you may prefer a polished concrete floor or an acid-stained concrete pattern. In addition, the flooring varies from one centimetre to the next, with no two floors looking the same. Consider whether a visually striking, swirling pattern is right for your floor to help you make an informed decision.
Metallic Epoxy Flooring: Pros And Cons
Pros

A powerful aesthetic statement that's unmatched by other coatings
Ideal for adding the 'WOW' factor to commercial and industrial spaces
Non-slip and stain-resistant to protect against commercial foot traffic
Long-lasting and designed to protect your concrete floors for years

Cons

Specialty blends typically cost a little more than traditional coatings
Difficult to DIY as installation requires a professional Perth flooring team
The bold visual statement is not suited to all applications
Conclusion
Offering the same reliable durability as a traditional finish, this flooring creates a unique and eye-catching finish characterised by swirling patterns and three-dimensional shapes. In short, you enjoy all the benefits of traditional epoxy flooring with a stylish spin that can help your business stand out 
Typically, epoxy flooring lasts 2 to 3 years in heavy traffic. Commercial properties—like garages, restaurants, or factory spaces—with lots of daily foot traffic can expect this experience. However, with proper care and maintenance, your epoxy flooring may last much longer.
Cons of Epoxy Flooring
Strong Application Fumes. During the epoxy application process, wet epoxy gives off an unpleasant smell. ...
Long Curing Time. ...
Slippery When Wet. ...
Economical Flooring Choice. ...
Resistant to Damage. ...
Weather-withstanding. ...
Aesthetically Pleasing. ...
Protects and Decreases Wear & Tear.
Extremely safe – Epoxy is a very safe coating for your hard floors. It's slip resistant, shock resistant, and less abrasive than concrete and other types of industrial flooring. ... It can also withstand heat of up to 200 degrees, making it a better choice than most other types of flooring when it comes to fire resistance.